The Golf Course at The Pines
18 Holes of Quality Golf Course Design
Playing our 18 hole, par 68 golf course is a memorable experience with water playing an intrinsic part by coming into play on seven of the holes. There is plenty of variety with the course being a mixture of parkland and heathland.
Lower your handicap
Perfect your game with The Simple Golf Swing, and reduce your handicap by up to 13 strokes.
The greens are a particular feature of the course, all having subtle undulations and an exceptional putting surface. A variety of tees ensure that all standards of golfer can enjoy their game. The second, a sharp dog-leg round trees with a green set in a wooded dell, and the third, again a sharp dog-leg with a pond in front of the green, provide a difficult start. Underlying sand and gravel ensure good playing conditions all year round.
The Pines feature hole is a 146 yard par three with water on three sides of the green, this is followed by the toughest hole on the course, the 17th, a 410 yard par four with a tight second shot to a green set into a background of heather, Birch and Pines.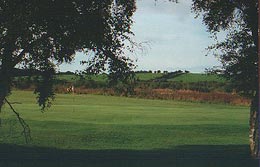 News:
The promised changes are on their way. Have a look at the new members section for more news!